By Sam Hodges
Oct. 5, 2021 | UM News
The United Methodist Publishing House continues to make major changes as it deals with financial challenges exacerbated by the COVID-19 pandemic.
The Publishing House, a self-supporting agency, has transferred the assets and operations of a pension plan to Wespath Benefits and Investments, the denomination's pension agency.
In the same Oct. 4 press release, the Publishing House announced that the sale of its Nashville property has been completed, at a price of $24.5 million.
The Publishing House is the denomination's oldest continuous entity, dating to 1789. However, recent decades have seen it contracting along with The United Methodist Church's U.S. membership.
When the COVID-19 pandemic closed churches in March 2020, the Publishing House's sales plummeted — including for vacation Bible school and Sunday school materials. The agency had layoffs, while also shifting to remote operations.
Since well before the pandemic, the Publishing House — which includes the publishing imprint Abingdon Press and the retail operation Cokesbury — has had the worry of managing a defined benefits pension plan.
On Oct. 4, the Publishing House transferred to Wespath $84 million to secure the plan's liabilities of $81 million. Wespath is now in charge of the plan, including making payments to about 500 participants.
"The transfer dedicates sufficient funds to assure promised benefits to all participants over the next 30-plus years and places policy oversight and ongoing administration under the stewardship of pension fund management experts," said the Rev. Brian Milford, the Publishing House's president and publisher, in an email interview.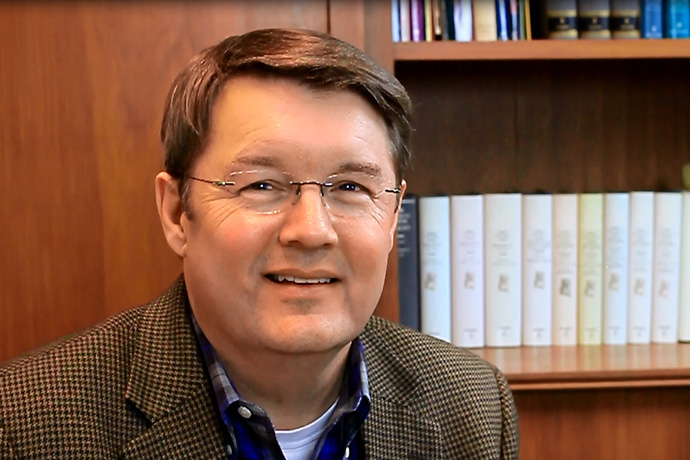 The Rev. Brian Milford is president and publisher of the United Methodist Publishing House in Nashville, Tenn. 2015 file photo by Kathleen Barry, UM News.
Plan participants have been notified of the transfer and can get more information by calling Wespath at 1-800-851-2201.
Wespath handles benefit plans for more than 100,000 United Methodists, clergy and laity.
"We are pleased we can support UMPH and their many employees, current and retired, who rely on these important pension benefits," said Barbara Boigegrain, Wespath's top executive, in a separate press release.
Faced with declining sales and a changing bookselling environment, the Publishing House announced in 2012 that it would be closing all of its bricks-and-mortar Cokesbury bookstores.
The agency once was a major property holder in Nashville, but as it outsourced production work, the need for building space fell.
In 2013, the agency sold its downtown Nashville property and soon moved operations farther out to a campus it had purchased and named New House Commons. The lakefront space was outfitted with state-of-the-art digital technology.
But sales of Publishing House materials continued to slip, and with the pandemic, they fell rapidly. For April 2020, sales were just 64 percent of what they had been a year earlier, and the next few months weren't much better. The Publishing House had a major round of layoffs, followed by still more cuts.
Milford and other leaders concluded that having the remaining employees work remotely — a move done for safety — saved significantly on operating expenses and worked smoothly enough to justify exploring the sale of New House Commons.
By May, the Publishing House announced that a tentative agreement had been reached. The sale to R2, a Chicago-based real estate investment firm, was completed Sept. 23.
Part of the $24.5 million proceeds were used in the assets transfer to Wespath.
Though most employees continue to work remotely, the Publishing House is leasing space in the United Methodist Communications building, on Nashville's 12th Avenue South, for core information technology and financial services. Other denominational agencies are also consolidating space in response to changes wrought by the COVID-19 pandemic.
By spring, Publishing House sales had come back a good bit. But Milford said that when the delta strain caused COVID infection rates to rise again, church participation and Publishing House sales both faced setbacks.
"Sales are directly linked to the rate and magnitude of return to in-person worship, Sunday school and other congregational activities," he added.
For the fiscal year ending in July, the Publishing House's preliminary sales were $27.1 million. The agency expects final accounting for the fiscal year will show a nearly $3 million deficit.
Milford said the budget plan "projects positive net cash from operations" by the end of the next fiscal year.
The Publishing House's board will meet Oct. 18 and a follow-up press release will share reports about product line performance, Milford said.
Tennessee Supreme Court Justice Cornelia "Connie" Clark had been board chair of the Publishing House. With her death last month, the vice-chair, the Rev. Thomas Salsgiver, is leading the board.
Milford said the Publishing House currently has 142 employees, down from nearly 300 before the pandemic.

Hodges is a Dallas-based writer for United Methodist News. Contact him at 615-742-5470 or newsdesk@umcom.org. To read more United Methodist news, subscribe to the free Daily or Weekly Digests
At University United Methodist Church, we affirm that as disciples of Jesus Christ, we are an open and inclusive congregation and welcome all persons into full participation regardless of race, ethnicity, gender identity, sexual orientation, socioeconomic situation, age, ability, education, background and whether single or partnered.